Revelation 1:1-3 | Revelation's Message
Jan 31, 2018
Beliefs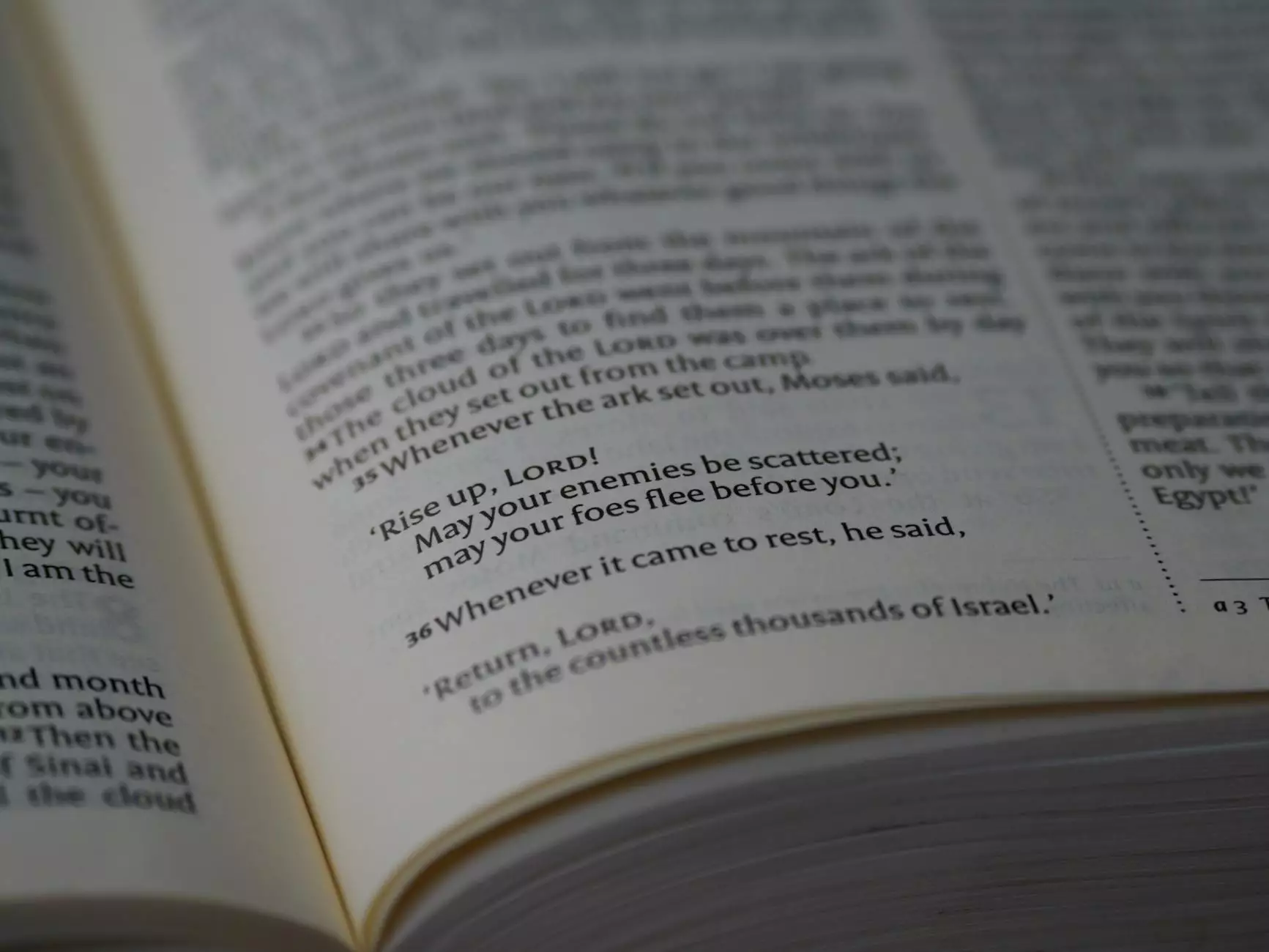 The Profound Message of Revelation 1:1-3 Unveiled
Welcome to Savannah Christian Church's virtual sanctuary - lateChurch! Our faith community is dedicated to exploring the rich teachings of the Bible, and today we dive deep into the scriptures to uncover the profound message within Revelation 1:1-3.
Discover the Context of Revelation
Before delving into the specific verses of Revelation 1:1-3, it is essential to understand the context in which this book was written. The book of Revelation, attributed to the apostle John, is the final book of the New Testament. It is a symbolic and apocalyptic piece of literature, which shares visions and prophecies regarding the end times and the ultimate triumph of good over evil.
In Revelation, John presents a vivid collection of imagery and symbolism that requires careful interpretation. The language used is highly metaphorical, often referencing historical events and figures, thus inviting deeper reflection and analysis.
Unearthing the Meaning of Revelation 1:1-3
Now, let's turn our attention to the specific verses of Revelation 1:1-3. These verses serve as an introduction to the entire book, setting the stage for the revelations to come.
Understanding Verse 1
Revelation 1:1 establishes the "revelation" as the direct communication from Jesus Christ to the apostle John. It reveals that this message comes from God and is delivered through His divine messenger. This divine origin grants the book of Revelation immense authority and significance in Christian teachings.
The Importance of Verse 2
Verse 2 emphasizes the role of John as a faithful witness who testifies to the word of God and the testimony of Jesus Christ. This verse establishes the credibility of John as the author and reaffirms the divine nature of the book's contents.
Embracing Verse 3
Verse 3 holds a special invitation and blessing for those who read, hear, and keep the words of this prophecy. It highlights the powerful impact and transformative potential Revelation offers to believers. It encourages active engagement with the text, urging individuals to study and seek understanding.
Revelation's Teachings for Today's World
Although Revelation was written nearly two thousand years ago, its message remains relevant and impactful in our modern society. At Savannah Christian Church - lateChurch, we strive to shed light on the significance of this message for believers today.
Discovering Symbolism and Allegory
Revelation is revered for its extensive use of symbolism and allegory. Our dedicated team of scholars and theologians have spent years studying and decoding these intricate symbols, aiming to unlock their meaning and application to contemporary life.
By attending our weekly services, you have the opportunity to explore the depths of symbolic language alongside fellow believers. Together, we discover how these symbols manifest in our daily experiences and draw connections to our personal spiritual journeys.
Seeking Spiritual Truths and Guidance
The book of Revelation provides invaluable insights into the nature of God, the endurance of faith, and the ultimate triumph of good over evil. As we delve into its teachings, we encourage you to join us in reflecting upon the spiritual truths and guidance it offers.
Our dedicated small group studies and engaging sermons delve into the message of Revelation, applying its truths to real-life scenarios faced by members of our faith community. Together, we navigate the complexities of the modern world and discover practical applications of Revelation's teachings.
Join Savannah Christian Church - lateChurch
Whether you are a lifelong believer, a seeker, or someone curious about the teachings of Revelation, Savannah Christian Church - lateChurch warmly invites you to join our faith community. We offer a welcoming and inclusive environment where you can explore the transformative power of the Bible.
Connect with us today to discover the richness of Revelation's message. Become a part of our vibrant community and embark on a journey of deep spiritual growth and understanding.
Stay Connected with lateChurch
Don't miss out on the latest updates, sermons, and events at Savannah Christian Church - lateChurch. Stay connected by subscribing to our newsletter, following us on social media, and participating in our dynamic online discussions and study groups.
Subscribe to our Newsletter: Receive regular updates on upcoming events, thought-provoking articles, and exclusive content.
Follow us on Social Media: Join our online community and engage with like-minded individuals.
Join our Online Discussions and Study Groups: Participate in our lively discussions and enrich your spiritual journey.
At Savannah Christian Church - lateChurch, we are committed to fostering a strong and vibrant faith community that embraces the teachings of Revelation and other significant biblical texts. Join us today and embark on an extraordinary spiritual adventure!