Exodus 2:23-25 | Why God Hears
Oct 28, 2018
Beliefs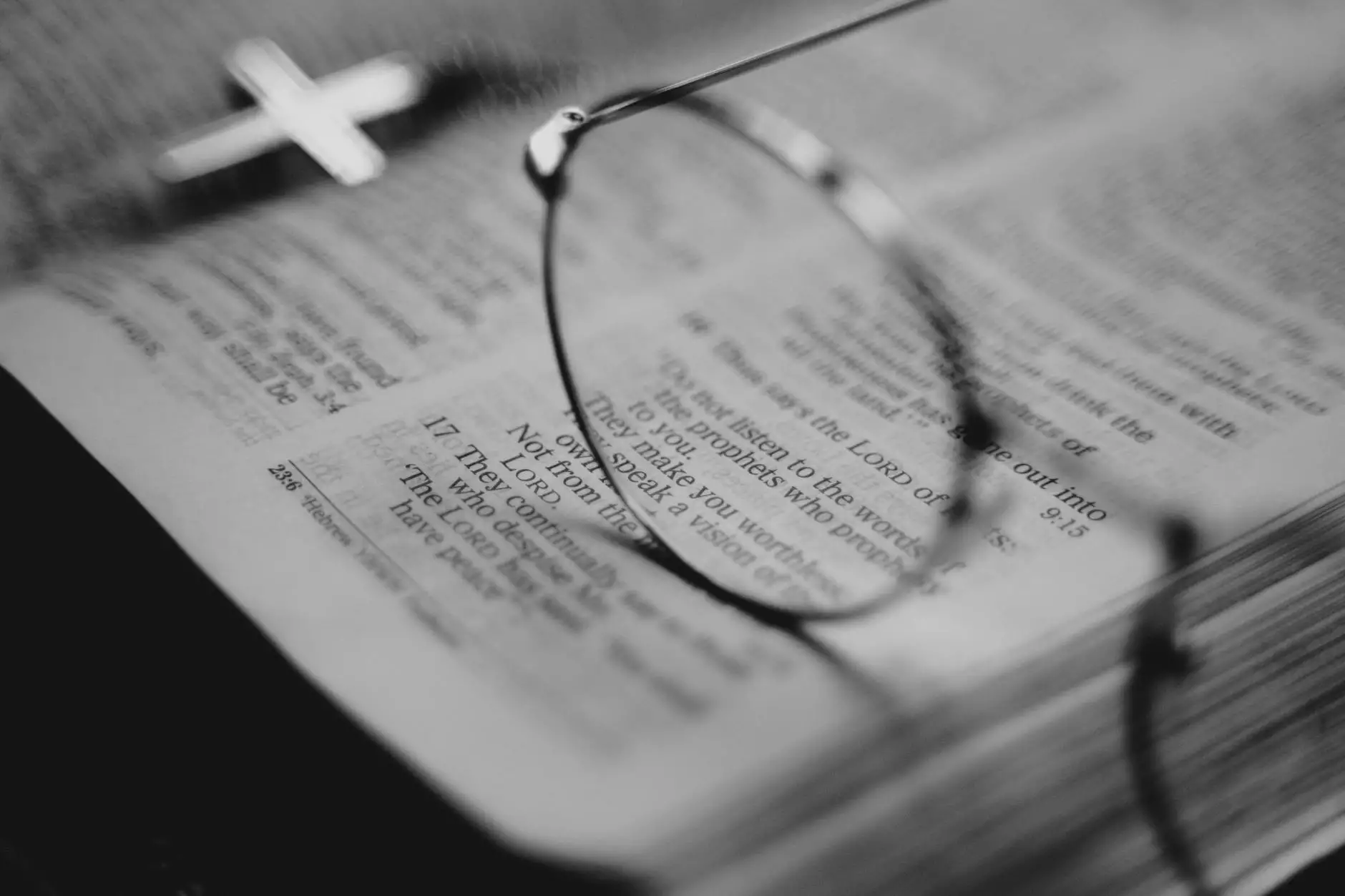 Welcome to Savannah Christian Church - lateChurch, a community dedicated to faith and beliefs. In this article, we will delve into Exodus 2:23-25 and explore the profound reasons why God hears our prayers.
The Context of Exodus 2:23-25
Exodus 2:23-25 is a pivotal passage in the Book of Exodus, providing insight into the Israelites' suffering and their cry for deliverance. This passage takes place during a time when the Israelites were enslaved in Egypt under the harsh rule of Pharaoh.
Amidst their affliction and despair, the Israelites cried out to God, seeking liberation from their oppressors and the burden of slavery. Their desperate pleas reached the heavens, catching the attention of the Almighty.
God's Compassionate Response
God heard the cries of His people in Egypt and took notice of their suffering. This passage highlights the divine attribute of God's compassion and His concern for the well-being of His creation. It reveals that God is not indifferent to human affliction and genuinely cares about each individual's circumstances.
Verse 24 emphasizes God's response: "And God heard their groaning, and God remembered his covenant with Abraham, with Isaac, and with Jacob."
God's remembrance of His covenant signifies His faithfulness to the promises He made to the patriarchs. Despite the Israelites' current circumstances, God had not forgotten His chosen people and their special relationship. This remembrance awakened within Him a desire to act on their behalf and bring about their redemption.
Lessons from Exodus 2:23-25
1. Recognizing our need for God: The Israelites' cry for help signifies their acknowledgment of their dependence on God's intervention. Similarly, we can learn from this passage the importance of humbly recognizing our own need for God and earnestly seeking His guidance and provision in our lives.
2. God's faithfulness in times of hardship: Through this passage, we witness God's faithfulness to His covenant. Even in times of great adversity, God remains steadfast and merciful, always mindful of His promises to His people. This reassures us that during our own struggles, God is with us, faithfully working for our ultimate good.
3. Encountering God's compassion: God's response to the cries of the Israelites demonstrates His compassion for the suffering. It is a reminder that we serve a compassionate God who listens to our prayers and responds according to His perfect will. This should encourage us to approach Him with confidence, knowing that He hears and cares about our deepest concerns.
Building a Stronger Faith
Exodus 2:23-25 provides a powerful foundation for building a stronger faith. It invites us to reflect on the nature of God's compassion, His faithfulness to His promises, and our need to depend on Him even in the most challenging of circumstances.
At Savannah Christian Church - lateChurch, we strive to foster an environment where individuals can come together to explore their faith, ask questions, and grow spiritually. Join our vibrant community of believers and experience the transformative power of God's love in your life.
Discover the Power of Prayer
In Exodus 2:23-25, we witness God's willingness to listen and respond to the prayers of His people. Prayer serves as a vital avenue through which we can communicate with the Almighty, expressing our hopes, concerns, and gratitude.
Through prayer, we open ourselves up to a deeper relationship with God, inviting Him to work in our lives and aligning ourselves with His will. It is a powerful tool that allows us to seek His guidance, find solace in His presence, and experience the transformative power of His grace.
Join Savannah Christian Church - lateChurch
If you're searching for a community that embraces faith and beliefs, Savannah Christian Church - lateChurch is the place for you. We welcome individuals from all walks of life, providing a nurturing environment where you can explore your spirituality and connect with others who share a similar journey.
Experience the joy of worship, engage in meaningful conversations, and discover the transformative power of God's love. Join our vibrant community today and embark on a journey of faith, hope, and growth.
Conclusion
Exodus 2:23-25 offers profound insights into the reasons why God hears our prayers. It teaches us the importance of recognizing our need for God, the assurance of His faithfulness in times of hardship, and the encounter with His compassionate response.
At Savannah Christian Church - lateChurch, we are committed to creating a space where individuals can deepen their faith, embrace community, and experience the incredible power of God's presence. Join us on this meaningful journey and discover the transformative impact of a vibrant, faith-filled life.